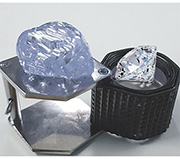 The following transaction costs will apply to your purchase, and will be included in your quote:
Payment for your diamonds and/ or manufacture of your jewelry (as per your quote)

Escrow account fees (we make use of Escrow account services to safeguard the quality of the service we provide (see the Escrow fee table below)

Transport / Delivery fees (we make use of RAM International (South Africa) to ensure your product is delivered safely). The value of the fees will depend on a) the delivery destination and b) the value of the product being delivered and will be factored into your quote. We will deliver internationally.

Insurance on your purchase. Although we do not insist on it, we highly recommend that you insure your product during transport. We will not be able to take responsibility for an uninsured product. Insurance will be factored into your quote by default.